Biological treatment,
0% chlorine

, ready-to-install
Hot tub In Red Cedar Wood
When the Red cedar wood is heated at a temperature of 38 degrees, it exudes pleasant aromas to feel in perfect harmony with nature, and also to truly relax.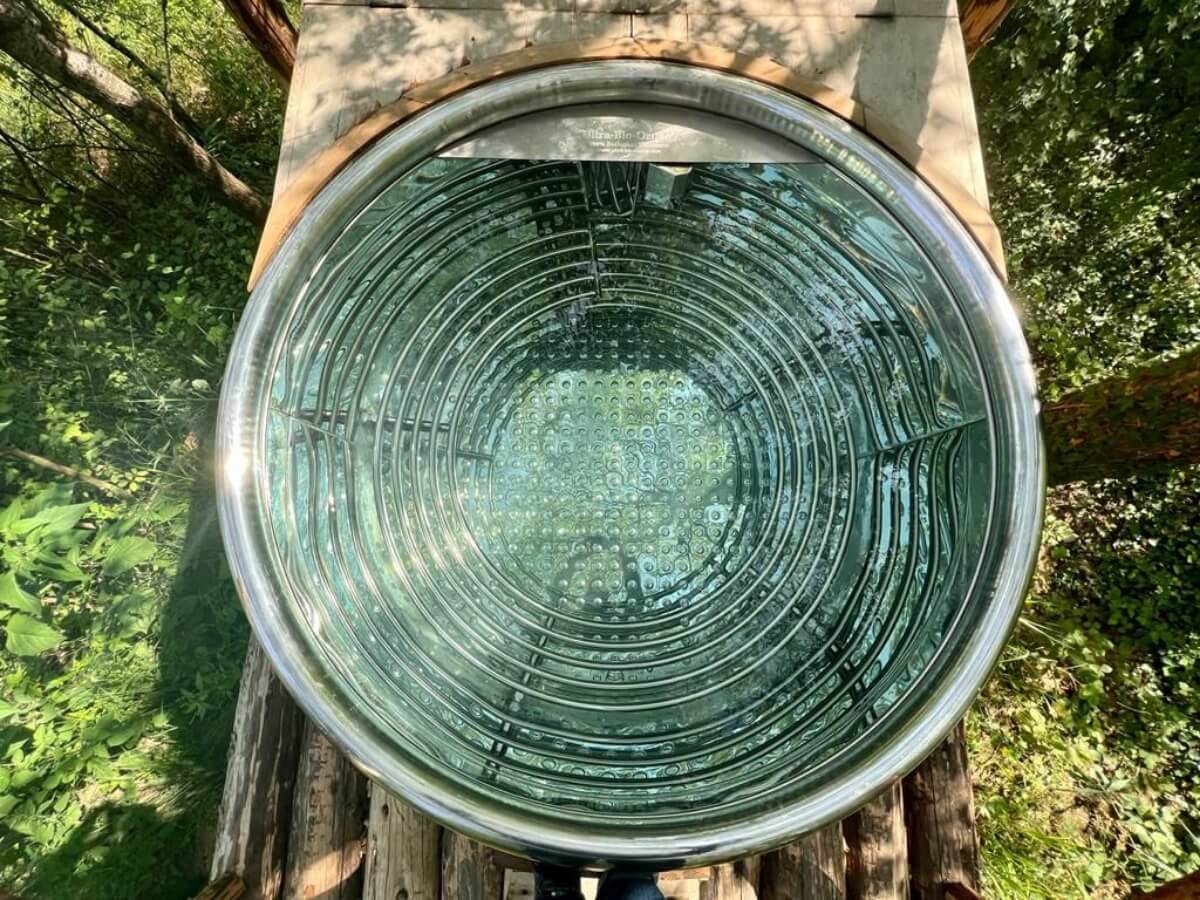 stainless steel hot tubs
Stainless steel hot tub enjoys greatly improved quality and longevity while retainingthe shine of the first day. A solution both professional for public or semi-public use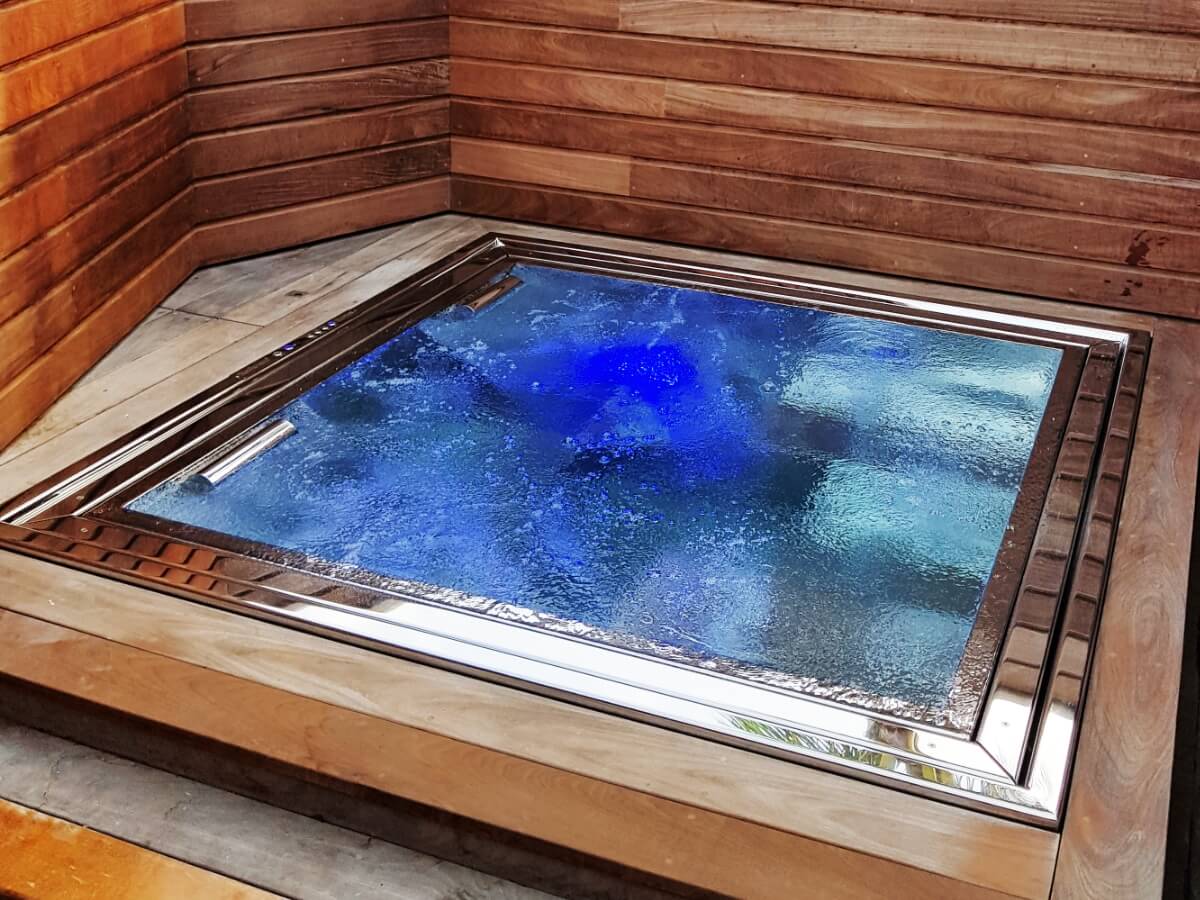 Jacuzzi Stainless Steel
Overflow Jacuzzi Stainless steel is
Ideal for hotel complex, private residence. Our jacuzzi
stainless steel
can be customized to complement any landscape or interior.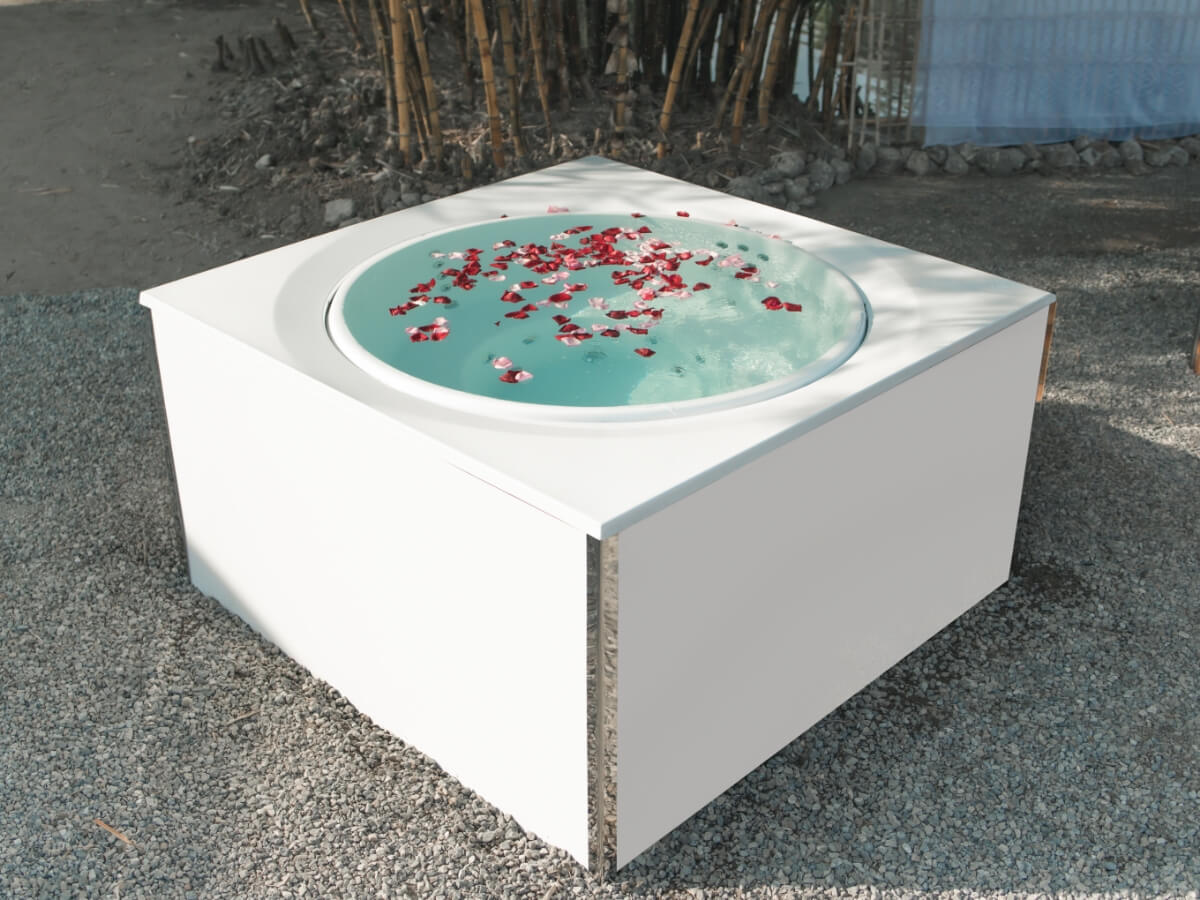 Cocoon, the acrylic overflow spa
Designed for intensive and professional use. An exclusive and elegant product that redefines the codes of luxury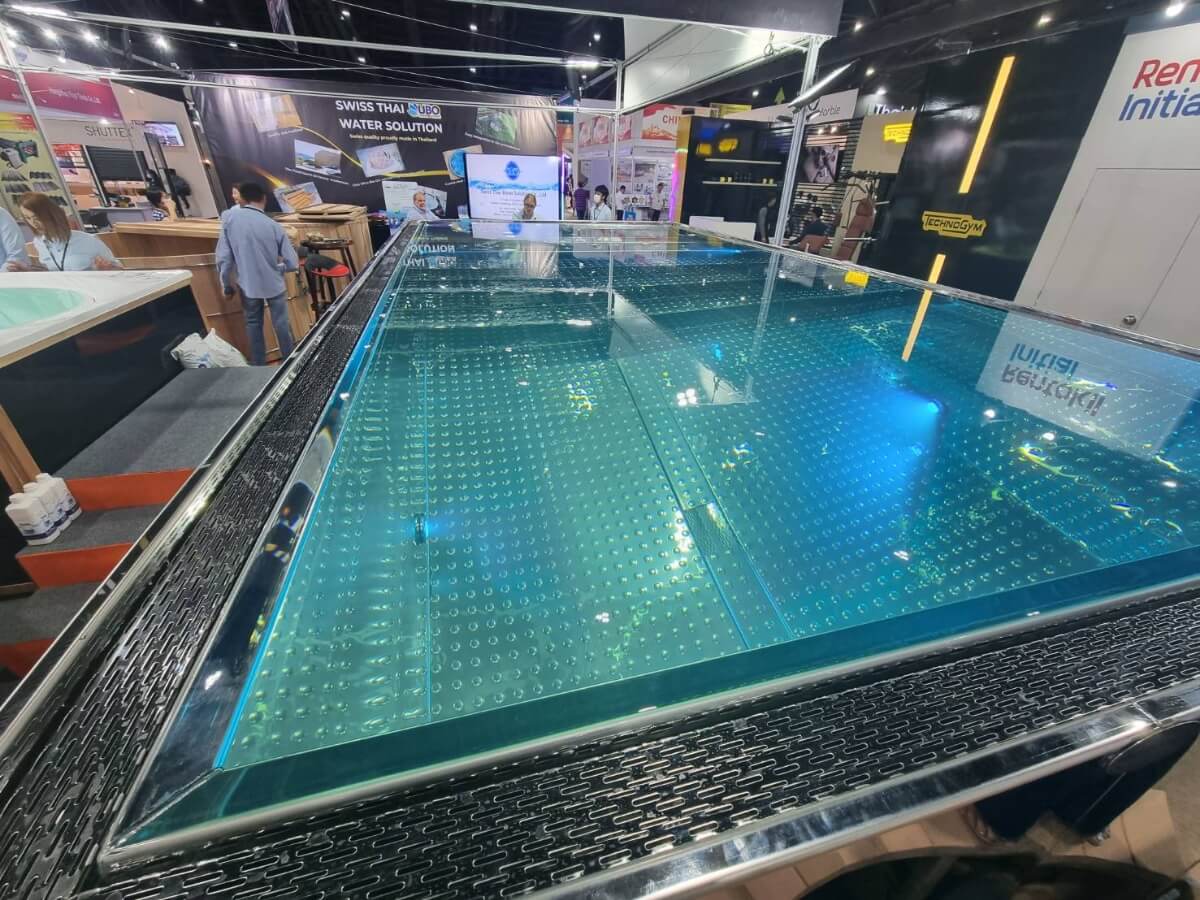 Stainless steel swimming pool
Our exquisite stainless steel swimming pool. Dive into a world of unparalleled opulence and indulge in the ultimate aquatic experience.
Hot tub and Jacuzzi are ideal for entering the category of high-end establishments, in return it requires maintenance that is as precise as it is rigorous. However, in addition to the hot tub or bath tub, many professionals offer an ill-suited water treatment system that they copy from that of jacuzzis or swimming pools. Some even go so far as to exempt themselves from any treatment. Hot tub private use.
For 7 years, we have been implementing a treatment unit with an eco-responsible approach. This approach is carried out in close collaboration with our partners who offer accommodation as varied as it is unusual. While innovating in several ways, this filtration system meets the needs of professionals subject to very strict hygiene standards.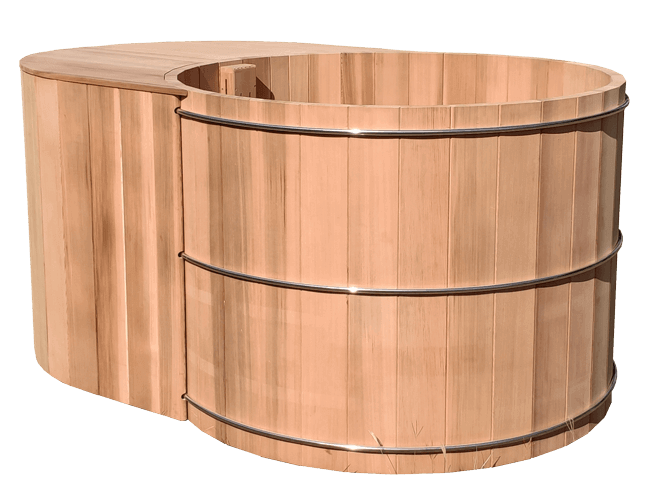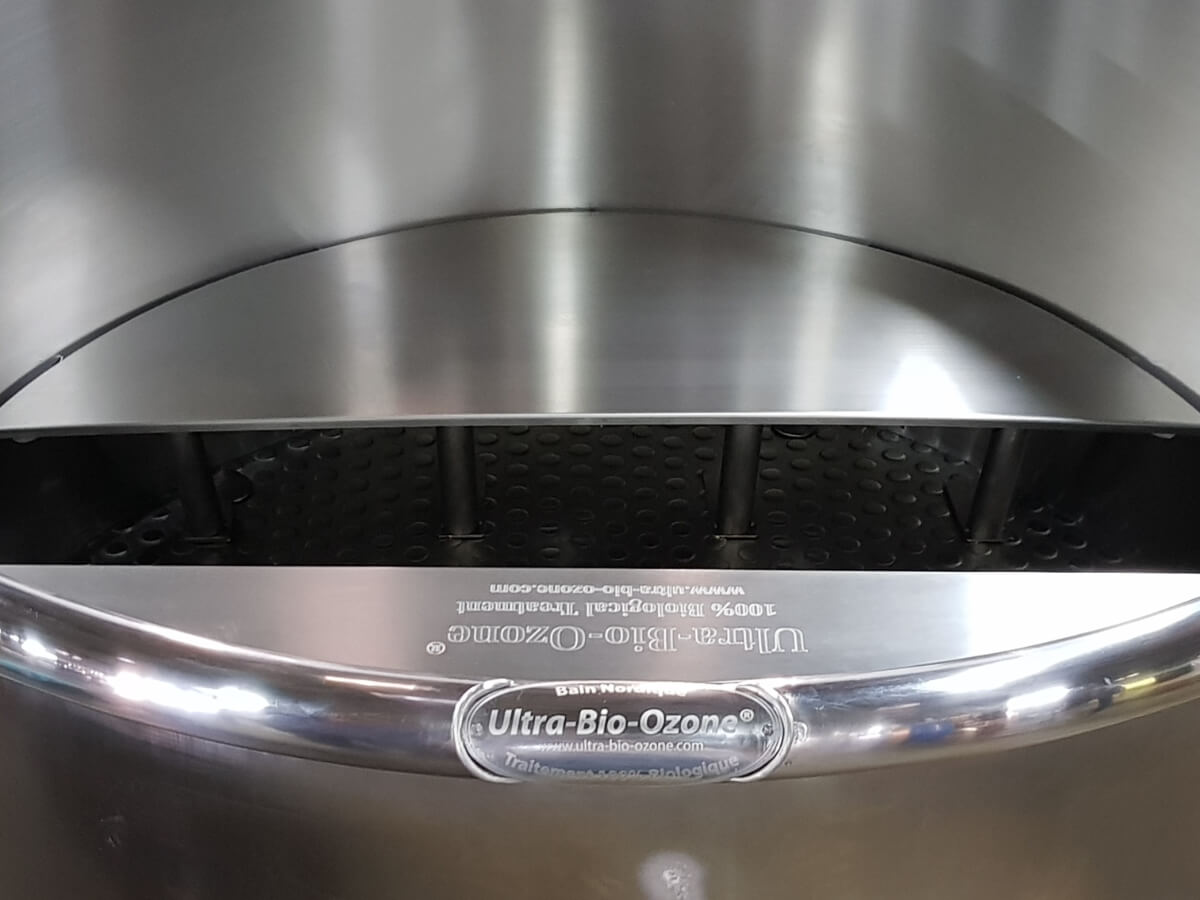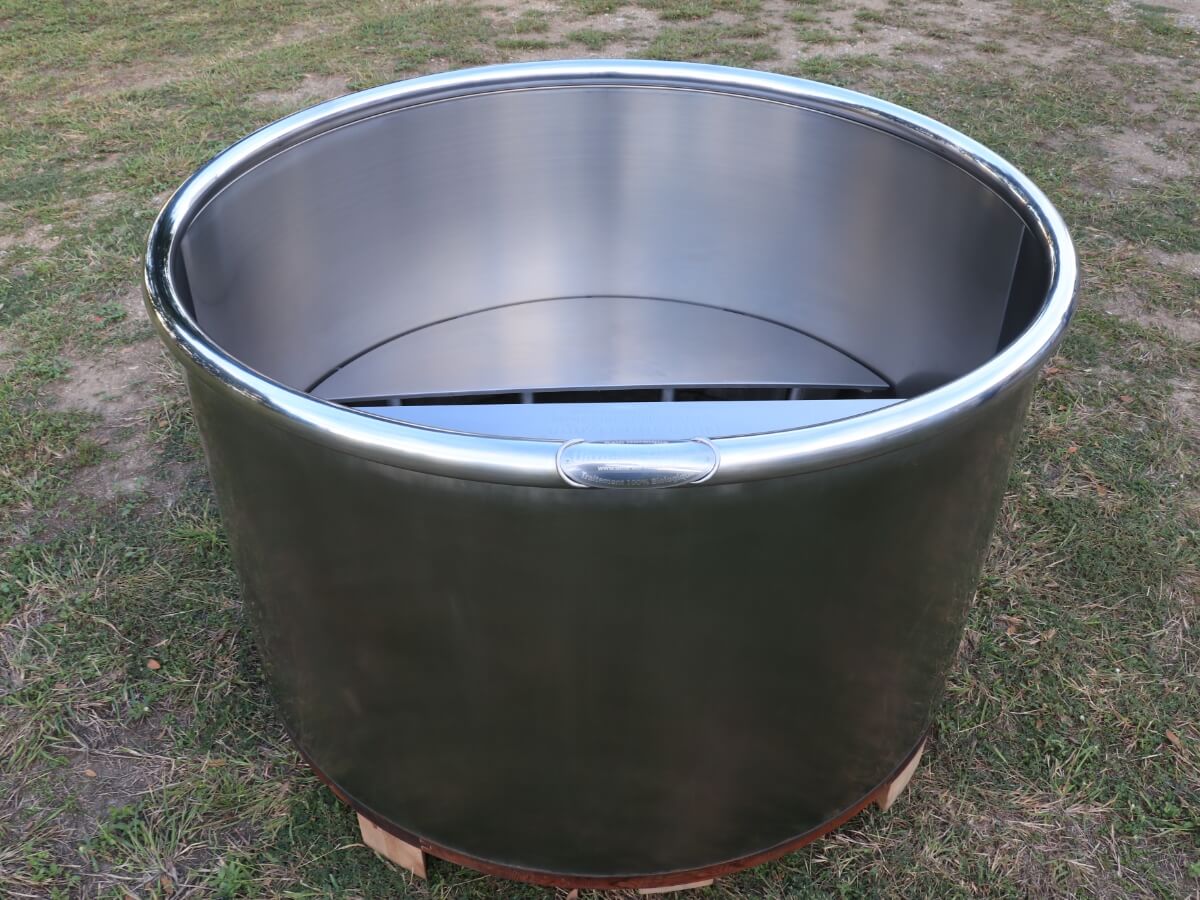 The Advantages of Hot tub
Our water filtration system perfectly meets the ecological aspirations of our time.
No chemicals that are as costly as they are harmful to the planet are needed to keep water pure.
Thanks to a tailor-made UV-C filtration with a patented ozone injection system, the treated water benefits from a complete high quality sterilization without the addition of chlorine * or any other product.
Little time, no product, no daily cleaning or water change. There is therefore a saving in terms of consumables.
When heated at a temperature of 38 degrees, Canada's red cedar wood exudes pleasant aromas to feel in perfect harmony with nature, but also to truly relax. The soothing smell of Canadian red cedar, coming from the abundant tannin from inside of the wood, creates a healthy atmosphere.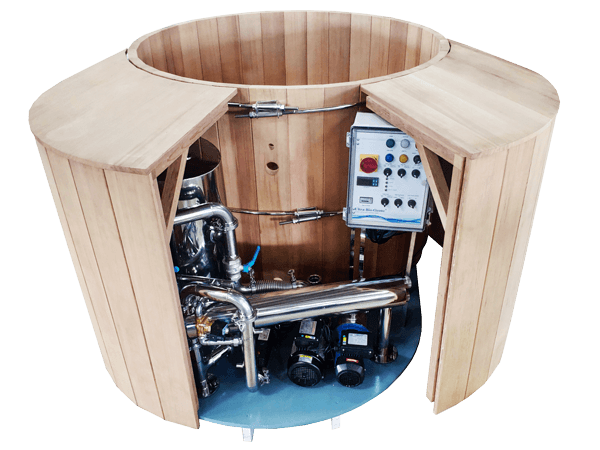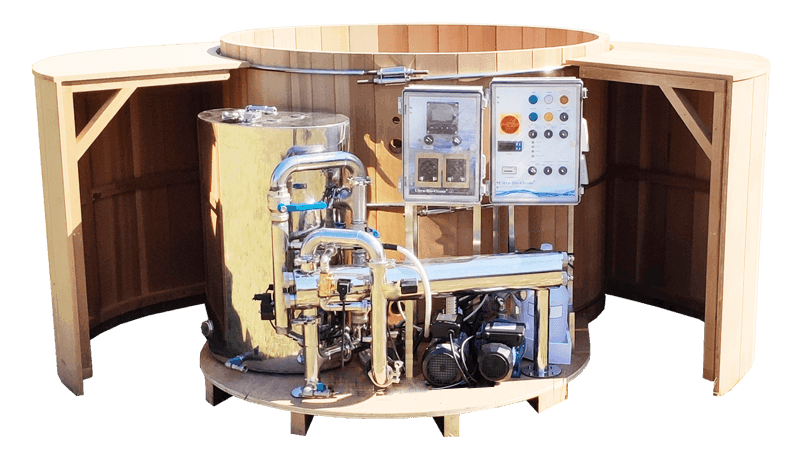 Bath with PH and redox management option
Red cedar swells little even in prolonged contact with water.
Naturally rot-proof, it does not fear fungi, nor termites nor insects.
Canadian red cedar is perfectly resistant to frequent changes in temperature and humidity.
We only use the heart of the tree so the walls of the bath remain perfectly smooth, no roughness or scratching appear on the surface.
You probably didn't come across this page by chance, choose a quality product.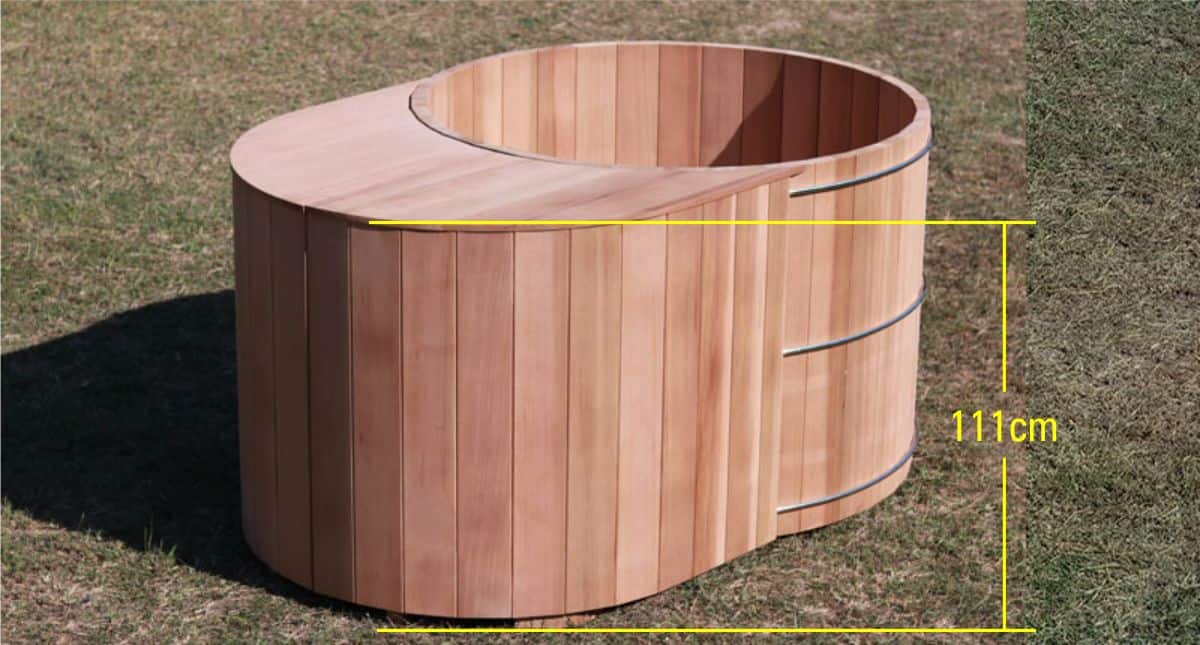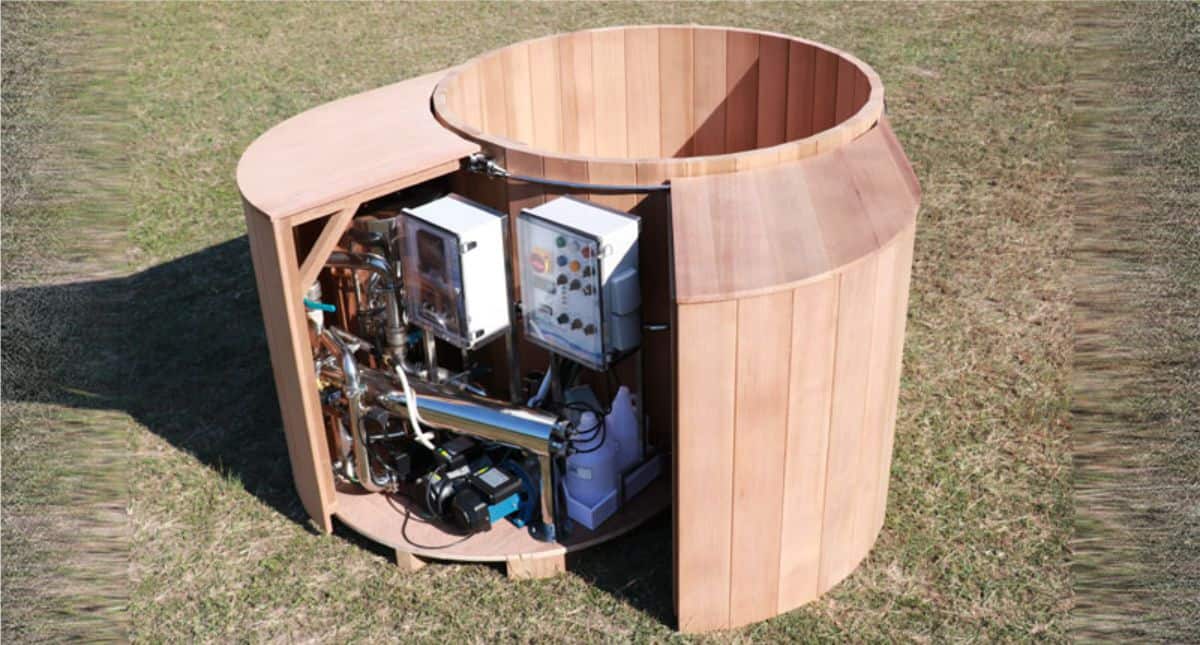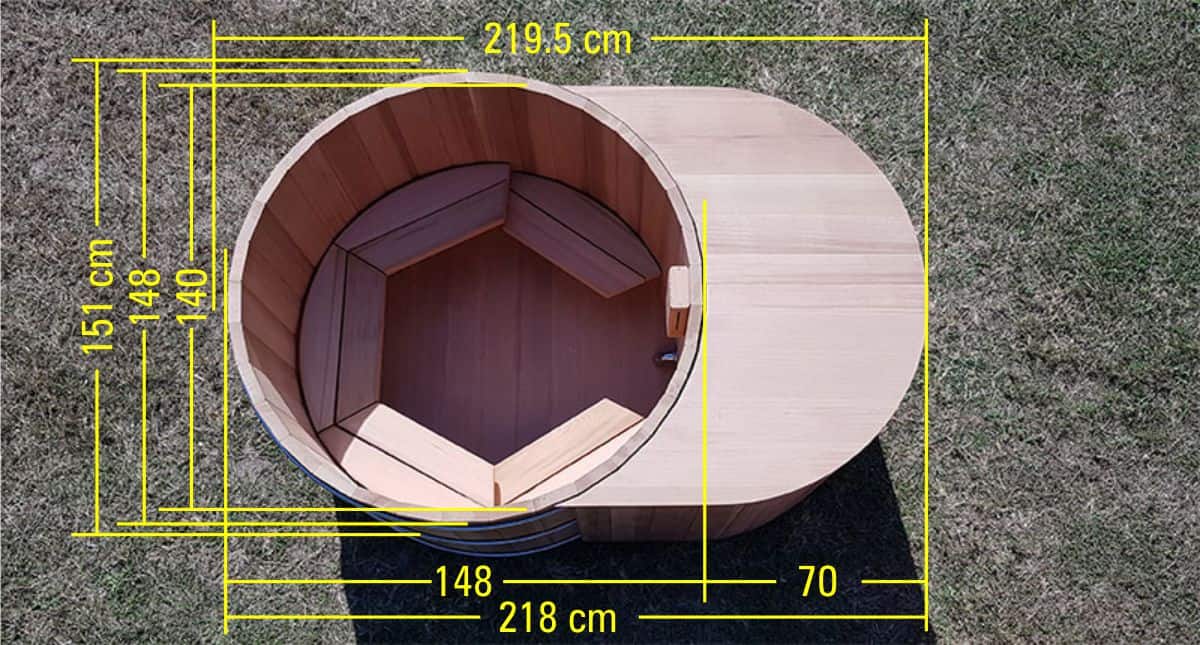 Ultra-Bio-Ozone®, the only provider of complete solutions ready to install biocompatible equipment, respecting the environment as much as possible.
Wooden hot tub/jacuzzi/bath tub with chemical-free treatment, a strong range that goes from the standard hot tub with filtration suitable for private use, to the custom hot tub/jacuzzi/bath tub stainless-steel with filtration systems for professional use, respecting the specific standards and regulations of each country.
Our professional range offers a completely automatic management managed by smartphone for a greatly facilitated daily maintenance; the daily control on site takes only a few minutes per hot tub.
*Installing under normal conditions, without the use of lifting equipment or exceptional means. When the technician arrives, the bath must be in place or close to the final location. The electrical connection must be made by an electrician to the customer's charge. The floor should be hard: concrete, wood flooring, slabs, etc., and must accept 2.5 tons.
Taylor made spa in 316 stainless steel, renovation of the wellness area in a prestigious residence on the island of Saint Martin.

ULTRA-BIO-OZONE® SWITZERLAND.
Specialists in 100% organic water and surface treatment. Ultra Bio Ozone is also a manufacturer and seller of hot tubs, spas, jacuzzis and water vending machines. From catalogue or custom-made.
THE ULTRA-BIO-OZONE® WATER TREATMENT SYSTEM
combines UV and ozone. Two completely different processes, working in tandem to disinfect and sterilise water without chlorine or chemicals.
Swiss Thai Water Solution Co., Ltd.
111 Moo.6 Tambon Khunkong,
Amphoe Hangdong,
50230 Chiang Mai, Thailand
Email
contact@water-solution.ch
Opening times
Monday to Friday from 8 am to 5pm
AVI Swiss Group SA
Administration:
Avenue de la Gare 36,
2012 Auvernier Suisse.
Warehouse:
Rue des Draizes 7
2000 Neuchâtel Suisse.
Factory: (100% subsidiary of AVI Swiss Group SA.)